Connect the Dots: Ending Homelessness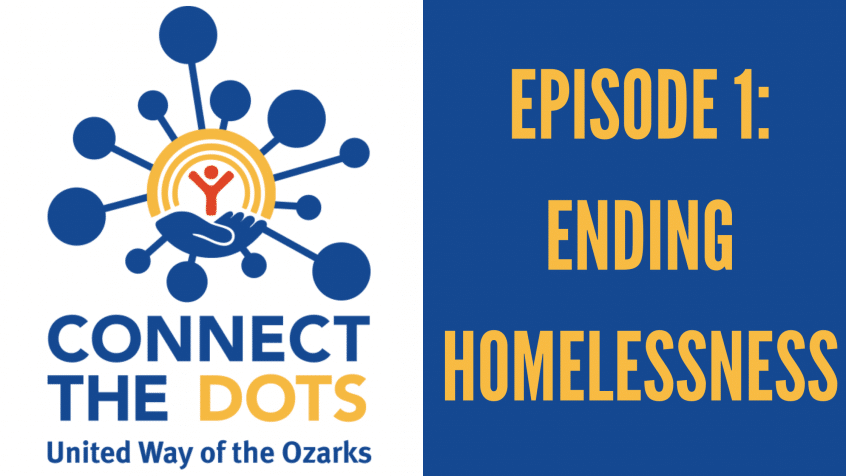 Did you know that on any given night, there are about 500 individuals in our community who experience homelessness? Homelessness is one of the toughest issues that our community faces, and United Way of the Ozarks wants to help you connect the dots so we can all unite to face the problem, find innovative solutions, and support our neighbors in need.  
Like most social issues, homelessness itself does not exist in a bubble. When someone is experiencing homelessness, they are likely experiencing other problems as well, like poor mental health, a lack of education or job training, or no family support system to lean on when times get tough. This is why giving to United Way of the Ozarks truly helps to connect the dots to help our neighbors end the cycle of poverty. We help to provide a community safety net that not only prevents homelessness but also addresses the myriad of other problems that an individual or family may experience before, during, or after their homeless experience. 
We sat down with two of our United Way partner agencies, The Kitchen Inc. and the Salvation Army of Springfield, to discuss how they're addressing homelessness in the Ozarks and how being a part of the United Way network helps them get the job done.
Ready to connect the dots and help us address homelessness? 
Give
When you donate to United Way of the Ozarks, your donation supports a local network of twenty-two nonprofit agencies that create a community safety net to help prevent problems like homelessness.
Advocate
Use your voice to speak up for those in need. Some ways you can do that include:
Volunteer
The partners featured in this month's episode of Connect the Dots can always use helping hands. Get in touch with the Salvation Army of Springfield or the Kitchen Inc. to see how you can pitch in. For even more volunteer opportunities, make sure to check out VolunteerOzarks.com.
Dive Deeper Into the Issue
According to the 2019 Community Focus Report, "Our community lacks flexible funding and low-barrier housing necessary to meet the needs of individuals and families." The issues of homelessness and poverty are chronically present in our community, which categorizes them as red flags that must be addressed. The Community Focus Report continues, "The availability of safe, high-quality, and affordable housing remains a concern. The number of cost-burdened households, where more than 30% of household income is used for housing costs, has trended upward for renters and homeowners." 
The Kitchen Inc. and the Salvation Army are two groups leading the fight in the Ozarks. Both of these organizations provide a unique approach to overcoming homelessness and poverty, and both are always seeking support from volunteers and donors in our community. 
THE KITCHEN INC.
The Kitchen Inc. was founded in March 1983 with a vision of a community without homelessness. To help this vision become a reality, The Kitchen Inc. provides numerous programs for those in need. These programs include: affordable housing developments, community housing, emergency shelter, Home at Last veteran services, and Rare Breed youth services. Each of these opportunities are specifically tailored towards the diverse needs of those struggling with homelessness. Last year alone, the Kitchen Inc. was able to assist 538 individuals with their housing programs and over 1,000 youth at Rare Breed. When you choose to donate to United Way of the Ozarks, your dollars support the mission of The Kitchen Inc. as they serve the youth in our community through Rare Breed, which is a United Way partner program. As an advocate for United Way, you are helping our community partner assist those that are most vulnerable to the effects of poverty and homelessness. 
THE SALVATION ARMY
The Salvation Army is an international movement that has a strong presence in the Springfield community. Their mission is "to preach the gospel of Jesus Christ and to meet human needs in His name without discrimination." The Salvation Army provides a wide variety of services for those who need assistance. These programs include an emergency food pantry, housing and shelter programs, community center programs for children and senior citizens, daily feeding programs, emergency disaster services, worship, and spiritual counseling. Last year, the Salvation Army assisted 135 individuals in finding permanent housing. When you donate to United Way of the Ozarks, your financial contributions help fund the emergency social services, the Family Enrichment Center, and the Harbor House homeless shelter at the Salvation Army. 
LIVE UNITED
Ultimately, homelessness and poverty are critical issues in our Ozarks community. United Way works to support the organizations fighting every day for those struggling with poverty and homelessness.  When you choose to live united, you are directly supporting organizations such as The Kitchen Inc. and the Salvation Army that are making a difference for those in need every single day. Sign up to receive our monthly videos here and remember that when you give, advocate, and volunteer with United Way, our community is able to grow stronger. Join United Way of the Ozarks in our fight for health, education, and financial stability for every person. It all begins with you.