Arvest Foundation supports United Way of the Ozarks
Arvest Foundation supports United Way of the Ozarks; renews gold-level sponsorship for Springfield Give 5 Program
Arvest Bank presented a check to United Way of the Ozarks on Wednesday, January 6th for almost $65,000.  Additionally, the Arvest Foundation simultaneously announced a $24,500 gift to United Way of the Ozarks.
Arvest Bank's $64,666.14 gift is comprised of $28,457.64 raised from employee associate pledges; $4,208.50 raised from internal fundraisers, including a silent auction; and a $32,000 corporate donation.  These funds will allow United Way of the Ozarks and its partner nonprofits to respond to the demands within the region to increased pandemic-related needs and provide additional services to support the most vulnerable in our communities.
Additionally, the Arvest Foundation simultaneously announced a $24,500 gift to United Way of the Ozarks via a check presentation by Kyle Hubbard, President of Arvest Bank-Springfield.  The gift designated for two purposes – funding the replacement of United Way of the Ozarks' failing boiler and continuing the Arvest Foundation's support of the Give 5 program.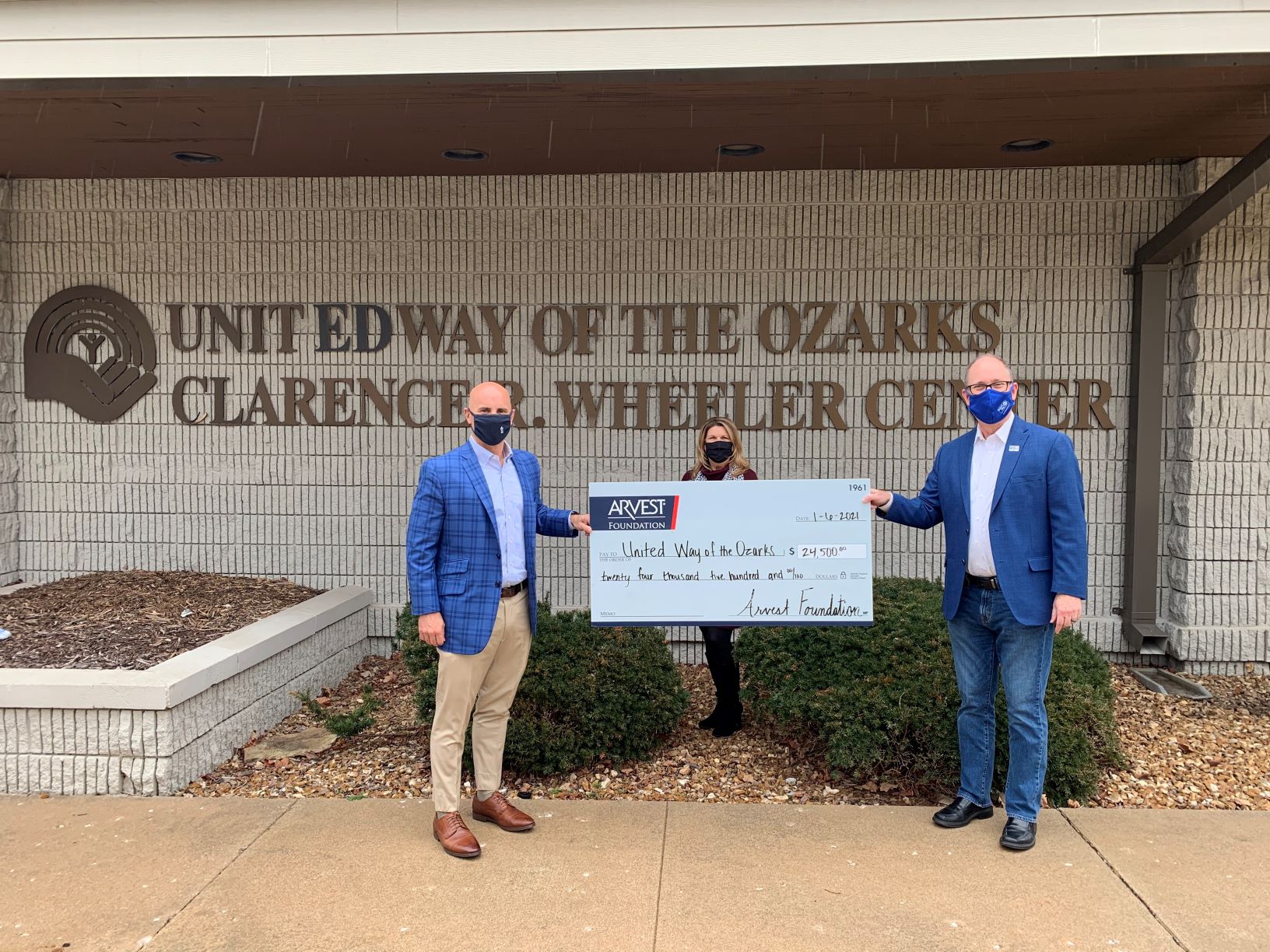 United Way of the Ozarks' boiler provides heating to the home office facility at 320 N. Jefferson.  The boiler is 41 years old and is nearing failure.  HVAC mechanics estimate boilers of this type have an estimated life of 30 years and advised that the boiler be replaced as soon as possible to avoid failure during the winter months.  Arvest Foundation's gift will allow United Way of the Ozarks to immediately begin replacing the boiler with a high-efficiency unit.
 With this same gift, the ­Arvest Foundation has renewed its gold-level Springfield Give 5 sponsorship. Funds will assist Give 5's host agency, United Way of the Ozarks, with 2021 operational costs. The primary purpose of the Arvest Foundation is to support local organizations doing outstanding work to improve the quality of life in Arkansas, Oklahoma, Missouri, and Kansas communities.
Give 5 recently pivoted to a virtual platform for Class 13 and assisted applicants who did not have reliable Internet access through a partnership with the Springfield-Greene County Library District. Thirteen Greene County residents are ready to start new, or continue, volunteer commitments after completing the virtual program. These thirteen graduates committed to twenty-one meaningful volunteer opportunities to support our community.  Give 5 allows individuals living in Greene County who are age 60+ to participate safely from home or at a designated, socially distanced community space. Seven nonprofit organizations gave participants virtual tours and presented dozens of volunteer options that are safe for volunteers in person, virtually, or through at-home opportunities.
The two-year-old program, which is presented by UnitedHealthcare and supported by several sponsors and the Greene County Seniors Citizens' Service Fund, has graduated nearly 200 Greene Countians, connecting them with nonprofits that address one of society's most pressing problems: poverty. Based on the most recent alumni survey, more than a year after graduating, 86% of Give 5 graduates are still serving their communities through volunteerism and civic engagement.
Give 5 is taking applications for Class 14, which will also be a virtual program on Feb. 11-12; 17 and 18. To apply, visit sgfGive5.org.
For information on how your organizations can partner with Give 5, contact United Way of the Ozarks President/CEO and Give 5 Executive Director, Greg Burris at [email protected]
About Arvest
Arvest Bank operates more than 270 bank branches in Arkansas, Oklahoma, Missouri and Kansas through a group of 14 locally managed banks, each with its own board and management team. These banks serve customers in more than 135 communities, with extended weekday banking hours at many locations. Arvest provides a wide range of banking services including loans, deposits, treasury management, credit cards, mortgage loans and mortgage servicing. Arvest also is one of a select few banks in the nation to have its mobile app – Arvest Go – certified by J.D. Power for providing an outstanding mobile banking experience. Arvest is an Equal Housing Lender and Member FDIC.
About the Arvest Foundation
The Arvest Foundation seeks to provide funding to grantees who are actively working to create positive change for others. Major areas of focus include: K-12 education, economic development, and enhancing the quality of life throughout the Arvest footprint. For more information, go to www.arvestfoundation.org.
For media information, contact Greg Burris at 417-863-7700 or [email protected]